Posts for tag: veneers
By Peter Silberstein, DMD
October 02, 2017
Imperfections in your smile like chips or discolorations can take a toll on your self-confidence, causing you to think twice before laughing or
smiling. This situation, however, is easily reversed with the help of porcelain dental veneers. Understanding veneers and how they work can help you make a decision to undergo treatment. Find out more about dental veneers with Dr. Peter Silberstein at Your Beautiful Smile in Boynton Beach, FL.
What are veneers?
Dental veneers cover your existing natural teeth to provide a new look. Depending on the extent you wish to change your appearance, veneers can provide minimal, subtle results to a complete overhaul. The veneer itself, made from porcelain, is a super-thin shell which fits over the surface of the tooth. Your dentist will place the veneer and bond it to the tooth using dental cement. The veneer is custom-designed and created by a dental laboratory, a process which usually takes about two weeks. The design of your veneers is based on an impression your dentist takes of your mouth then sends to the laboratory.
How can veneers help make my smile beautiful?
Veneers treat a variety of dental issues, including:
chipped teeth
cracked teeth
discolored teeth
yellowed or stained teeth
uneven teeth
too-pointy or too-short teeth
slight gaps
slight overlaps
Porcelain Dental Veneers in Boynton Beach, FL
If you think you could benefit from dental crowns, you should consult with your dentist to ensure that you are a good candidate for the procedure. Patients should have a healthy smile, free from tooth decay or gum disease. Your dentist will treat these conditions prior to considering veneers for your teeth. Additionally, veneers require a process which prepares the teeth for their restorations by removing a small layer of enamel from their surfaces. This tooth preparation deems veneers a permanent and irreversible procedure.
For more information on veneers, please contact Dr. Silberstein at Your Beautiful Smile in Boynton Beach, FL. Call 561-459-1600 to schedule your consultation for veneers with Dr. Silberstein today!
By Peter Silberstein, DMD
July 10, 2011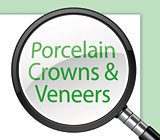 When it comes to restoring both the beauty and functionality of a smile, two of the most commonly used techniques are porcelain crowns and veneers. Why? They consistently deliver beautiful, natural-looking results that are permanent and require very little maintenance. And while they have many things in common, they also have just as many differences.
The Similarities
Here are some facts that apply to both porcelain veneers and crowns:
Both enable changes to a tooth's color and shape.
Dental laboratory technicians use precise molds made by our office to hand-craft porcelain veneers and crowns.
Both are made using high-quality dental porcelain.
Neither respond to tooth whitening products — the color of the veneer or crown remains the same color as the day it was placed.
Neither procedure is reversible once completed.
The Differences
Here are some of their differences:
Crowns are used to replace a larger amount of tooth structure while veneers are thin shells that are placed over the front surface of teeth.
Veneers require much less tooth preparation (reduction by drilling) than crowns.
Crowns allow for greater change of tooth shape, while veneers allow for more minor changes.
Crowns are generally used to restore teeth that have lost tooth structure from decay or trauma.
Veneers are generally used where teeth are structurally healthy and intact, but color and shape change are required.
Veneers are used mostly for teeth that are visible when smiling, while crowns can be used to restore virtually any tooth.
Want To Learn More?
To learn more, read the Dear Doctor article, "Porcelain Crowns & Veneers." Or, you can contact us to discuss your questions or to schedule a consultation.