Posts for tag: smile makeover
By Peter Silberstein, DMD
July 10, 2011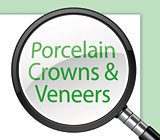 When it comes to restoring both the beauty and functionality of a smile, two of the most commonly used techniques are porcelain crowns and veneers. Why? They consistently deliver beautiful, natural-looking results that are permanent and require very little maintenance. And while they have many things in common, they also have just as many differences.
The Similarities
Here are some facts that apply to both porcelain veneers and crowns:
Both enable changes to a tooth's color and shape.
Dental laboratory technicians use precise molds made by our office to hand-craft porcelain veneers and crowns.
Both are made using high-quality dental porcelain.
Neither respond to tooth whitening products — the color of the veneer or crown remains the same color as the day it was placed.
Neither procedure is reversible once completed.
The Differences
Here are some of their differences:
Crowns are used to replace a larger amount of tooth structure while veneers are thin shells that are placed over the front surface of teeth.
Veneers require much less tooth preparation (reduction by drilling) than crowns.
Crowns allow for greater change of tooth shape, while veneers allow for more minor changes.
Crowns are generally used to restore teeth that have lost tooth structure from decay or trauma.
Veneers are generally used where teeth are structurally healthy and intact, but color and shape change are required.
Veneers are used mostly for teeth that are visible when smiling, while crowns can be used to restore virtually any tooth.
Want To Learn More?
To learn more, read the Dear Doctor article, "Porcelain Crowns & Veneers." Or, you can contact us to discuss your questions or to schedule a consultation.
By Peter Silberstein, DMD
May 29, 2011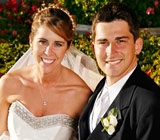 Invitations, dresses, the cake, the photographer: there's so much to think about when planning your wedding. And remember to plan for one more thing, your smile. Your wedding photographs will record the magic of your wedding day forever, so you'll want your smile to look radiant. Bonus: you'll be providing for a lifetime of good oral health.
Start planning as far ahead as possible. We can help you select from the variety of treatments, therapies and procedures that can enhance your smile on that special day. Together, we'll assess your starting point, decide what needs to be changed, and create a plan of action. Remember that the bigger the changes you want to make, the longer they are likely to take.
Plan the indicated amount of time before your wedding for the following:
Several months to three years: Orthodontics
From minor movement using clear aligners to full braces to correct a bad bite, this treatment allows us to accurately and precisely move teeth for better appearance and function. The process can seem like magic.
Six months to a year: Dental Implants
Implants are natural looking, functional stand-alone tooth replacement systems. They take planning and time. An implant consists of a root replacement that permanently joins to the bone and to which a crown is attached.
Two to four visits: Periodontal Plastic Surgery
Consult with us to find out your needs. Today, surgical techniques can alter your gum tissues and their relationship to the teeth, improving the appearance of your smile.
Multiple visits over one to four months: Crowns and Bridges
A crown or "cap" is generally required when a tooth has been ravaged by decay or trauma. A crown can also be used to improve tooth color and shape. Missing teeth can be replaced by bridges, which span the space created by a missing tooth. Bridges do require crowns on the adjacent teeth to which the bridge is attached.
At least three months: Veneers
Porcelain veneers are bonded directly to the enamel to change the shape and color of darkened or unsightly teeth. Usually, a small amount of enamel must be removed to make room for the veneers and for them to work their magic.
At least two months ahead of your wedding day: Bonding
You can replace anything from small chips on your front teeth to broken discolored old fillings with the latest tooth-colored bonding composite resin materials. These procedures, generally done in one visit, provide life-like restorations that become part of the teeth and look very natural.
Allow for one or two office appointments: Whitening
A professional "in office" tooth bleaching procedure is quicker and more predictable than an "at-home" kit, which may brighten your smile by several shades, but requires months.
Schedule well ahead of your wedding date: Dental Cleanings
Remove unwanted stains and freshen your breath, so you look and feel your best on the big day. You may need more than one cleaning, depending on how much stain and tartar there is and how long it has been since your last cleaning.
We can make sure that your wedding day smile makes you look and feel great, not just for those treasured photos, but for years to come. For many of these procedures, results can last a lifetime. Contact us today to schedule an appointment to prepare for your best wedding smile. For more information read the Dear Doctor magazine article "Wedding Day Smiles."